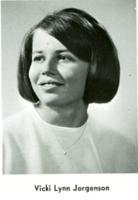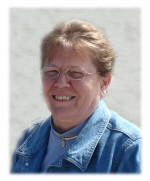 Click photo for larger version
Obituary and Classmate Information:
Died in Oakes, N.D
Cause of Death - Lung Cancer
September 16th, 2011
From Grand Rapids Herald-Review:
(9/20/11)

Vicki Bollum of Oakes, N.D., passed away on Friday, Sept. 16, 2011, in her home. She was 61 years old.

Vicki was born on Aug. 10, 1950 at Austin, Minn., to Mark and Avis (Nelson) Jorgenson. She graduated from Wayzata High School in Plymouth, Minn. After graduating from high school, she worked for WDGY radio station in the Twin Cities, Minn., area, before she ensured passenger flight safety as a flight attendant with United Airlines for over 11 years. Vicki was united in marriage to Perry Bollum Oct. 6, 1984 in Bemidji, Minn. In 2008, they moved from Grand Rapids, Minn., to Oakes, N.D., where Vicki was employed at Sweets & Stories, The Waltzing Quilter, and Quilted Blessings & Gifts when it changed ownership.

The most important part of Vicki's life was her three boys. She enjoyed hearing from them on a regular basis and keeping up with their many activities.

Vicki was an excellent quilter and was lauded by her students for her outstanding skills as a quilting instructor. Vicki was an exceptional cook and enjoyed baking for family and friends as well as canning and preserving a large variety of fruits and vegetables from the family garden. Other passions included, the celebration of Christmas, cheering on the Minnesota Vikings and working on counted cross-stitch projects.

Vicki was preceded in death by her parents.

She is survived by her husband Perry; three sons, Major Nicholas Bollum, USAF of Sacramento, Calif., Jacob Bollum of Grand Forks, N.D., and Lucas Bollum of Oakes.