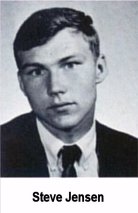 1967 - 11th grade








Deceased - June 24, 2019

Steve passed away as the result of a fall while visiting Grand Marais with friends and family.
From WTIP Community Obituaries:
Steven A Jensen, age 69, died on June 24, 2019, in Grand Marais, while visiting family and friends. Steve was born on April 26, 1950 in Hope, North Dakota, to Arthur and Dorothy (Dowling) Jensen. He grew up in the Twin Cities, moving from there as a senior to graduate from Alexandria High School in Alexandria, Minnesota in 1968. He graduated with a Bachelor of Science from Moorhead College in 1973. Steve married Sue Gronemeyer on November 19, 1988. He had two children, Erik and Ryan Jensen, and two stepchildren, Brett Barwick and Brenna Bohnen and was grandparent to eight beloved grandchildren, Gus and Cyrus Jensen, Seth and Alayah Barwick, Sadie Blank-Jensen, Quinlee, Rider, and Ebony Bohnen. He loved his grandchildren so much! He is also survived by his sister, Cindy (Keith) Kendall, and brother, Scott Jensen (Lynn), as well as mother and father-in-law, Wendall and Carmen Gronemeyer, nieces and nephews, grand-nieces and nephews, sisters and brothers-in-law, cousins and many friends and respected colleagues. He was predeceased by his parents, and his younger brother, Randy, in June 2019.
Steve dedicated his career to serve people with disabilities in long-term care, serving in executive positions in both private companies, and non-profit and public agencies. He was always committed to helping people, particularly children, who were more vulnerable and less privileged, to have their rights protected and to have the best life possible. He was a strong advocate for people with disabilities of all ages to live the most integrated life in the community. He contributed to causes to help children who were hungry, were refugees and who were abused and neglected. He enjoyed the arts, acting and directing in local theatre and loved being a coach, especially basketball, for his and other children. He was so proud of his children and of the parents they had become.
Friends and family will Celebrate the Life of Steven Jensen of Wisconsin Dells on Sunday, July 14, at 1 p.m. at the Lake of the Dells Lodge, 1143 Gillette Lane Pvt., Wisconsin Dells, Wisconsin. Those gathered will continue the story of Steve, a great storyteller, to pass our stories along to his children and grandchildren. In lieu of flowers, memorials to organizations that support children and people with disabilities to honor Steve's memory are appreciated. The family welcomes you to join us at the gathering.