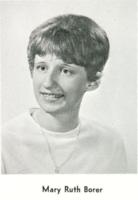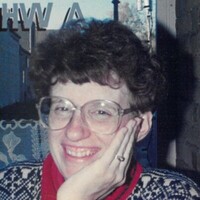 Deceased - January 21, 2021

The last contact that the class had with Mary was in 2013 during planning for the 45th Reunion.
Memorial Services Info - September 18, 2021
Mary Ruth Borer, Age 70, of Saint Paul, MN, died peacefully on Thursday, January 21, 2021. Born December 15, 1950, in Minneapolis, MN. Mary was the eldest daughter of the late William and Ruth (Morrison) Borer. She was a graduate of Wayzata High School (1968), the College of St. Catherine (1974), and Northwestern Health Sciences University (2001).

Mary spread joy, love and laughter, and she loved spending time with her family, making holiday meals and telling corny jokes. Mary worked as an occupational therapist at Hazelden Treatment Center in Center City and as an activities coordinator at Rose of Sharon Nursing Home in Roseville. She led classes in yoga, crafts, and organized holiday parties. In 1987, Mary transitioned into becoming a full-time mother, and part-time business woman. Mary later became a certified acupuncturist and started an independent acupuncture business where she treated patients and friends for many years. Mary retired in 2012 and began attending weekly classes in yoga, tai chi, and ceramics at Bethesda Hospital. She went on annual fishing trips and loved going to shows at the Guthrie Theater. Mary also enjoyed drawing, calligraphy, reading, gardening and taking care of her cats. Mary especially loved celebrating holidays with her family. Her holiday meals were famous for their deliciousness and she always had a fun, holiday themed joke to make everyone laugh. Mary will be remembered for her love, care, and special bonds that she had with her family and friends.

Mary was predeceased by her parents and older brothers, Jack and Gary Borer. She is survived by her son, William J. Merkl, daughter-in-law, Caroline C. Merkl of Saint Paul, her son, Daniel T. Merkl, and his fiancée Alyssa E. Chagnon of Minneapolis; good friend (and former husband) Joseph Merkl; brother, Dave Borer (Linda); sisters, Jean Schneider (Dean) and Barb Schreifels (Keith) and many nieces and nephews.

Memorial Service 11 AM Saturday, September 18 (visitation 10-11AM) at Roselawn Cemetery Chapel, 803 W. Larpenteur Ave., Roseville, MN. Luncheon following interment at Roselawn Cemetery Chapel. The family is grateful for the kind and thoughtful care Mary received at Saint Joseph's Hospital, Fairview Acute Rehabilitation Center, Lyngblomsten Senior Living Center, Saint John's Hospital in Maplewood, and Accent Care Fairview Hospice at Lyngblomsten. In lieu of flowers, donations in Mary's memory may be made to the Minnesota Brain Injury Alliance, the National Brain Tumor Society, or Feline Rescue.