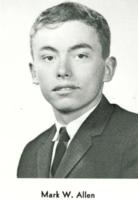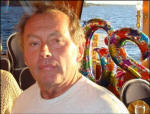 Mark at the 40th Reunion
Click photo for larger version
From Minneapolis Star Tribune:
(10/23/11)
Died in Minnetrista, MN
Cause of Death - Work Related Accident
October 19th, 2011

Allen, Mark W. age 61, of Wayzata, passed away unexpectedly on Oct. 19, 2011. Preceded in death by parents, Jack & June. He will be deeply missed by his special friend, Nancy Peterson; children, Christine Werner (Bill), Chad, Todd (Erica), Michael (Emily); grandchildren, Cole, Sean, Dane, Jace, Cameryn, Jude, Alexia, Elle, Morgan, Mark, Adie; sisters, Judy Allen-Leventhal (Michael), Dana Reed (Steve); many nieces, nephews, relatives, good friends , loyal customers of the "G-man", and loyal Pug, "Caylee".

PLEASE NOTE THE CHANGE OF VENUE FOR MEMORIAL

SERVICE- MARK W. ALLEN
NOVEMBER 5TH, 2011
10:00 -10:30 VISITATION ~ SERVICE BEGINS AT 10:30
OUR LADY OF THE LAKE 235 COMMERCE BLVD
MOUND MN 55364

RECEPTION IMMEDIATELY FOLLOWING
THE GILLESPIE CENTER 2590 COMMERCE BLVD ,
MOUND MN 55364
WE HOPE YOU CAN JOIN US

From Minneapolis Star Tribune: (10/24/11)
Authorities on Monday released the name of the west-metro trash hauling business employee killed when he became trapped in a hydraulic mechanism on a truck. Mark W. Allen, 61, of Wayzata, died Wednesday at Blackowiak & Son on Sunnyfield Road in Minnetrista, the medical examiner's office said.
Allen was pinned in a hydraulic arm on the truck, police said. The death is being treated as an accident, the medical examiner's office said.