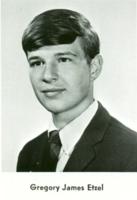 From Minnesota death index record:
Died in Wright County, MN: November 2002
Cause of Death - Cancer
Married: Diane M. Roy - 8/28/1971
Obituary:
From Minneapolis StarTribune
Published Nov 22, 2002
Greg J. Etzel, age 52, of Rockford. Survived by wife, Diane; daughters, Amy Peterson (Shawn) and Stephanie Etzel. Papa of Riley & Nickolas. Also survived by parents, Lawrence & Marie; brothers, Wally (Kathy), Larry (Kathy), Brian (Patty) and Jeff (friend Stephanie); many nieces, nephews, relatives and friends. Mass of Christian Burial Monday, 10 am at the Church of Holy Name of Jesus, 155 County Rd 24, Medina. Visitation Sunday, 4-7 pm at Gearty-Delmore Chapel of Plymouth, 37th & Vicksburg Lane, and one hour prior to Mass at church. Interment Holy Name Cemetery.
Memorials preferred to the Hubert H. Humphrey Cancer Center Gearty-Delmore Plymouth 763-553-1411